Tow Truck Lettering
Truck Lettering Solutions | Located outside Philadelphia, PA serving you nationwide.
From Vinyl Lettering To Full Truck Wraps
Check out this new tow truck we lettered for Rob's Towing! It was done locally in our facility located just outside Philadelphia, PA. This new project was very different from our average truck lettering project. We converted a traditionally hand painted fleet into a vinyl lettered direction. This consumed countless hours creating hand painted vector art. One of the most fascinating parts about this project is the ability to now mass produce the fleet of tow truck graphics consistently. Each and every trucks' custom pin striping is now identical from truck to truck. This eliminates the inconsistency of the original hand work required to paint the truck graphics.
This tow truck's graphic kit is made from our high performance line of supreme wrap film. It is designed to outperform the competition giving our customer a 5 year guarantee on all installed parts. All parts are printed on our 3M certified printers followed up with a high performance lamination process. It helps prevent UV wear for up to 5 years vertically and 1 year horizontally.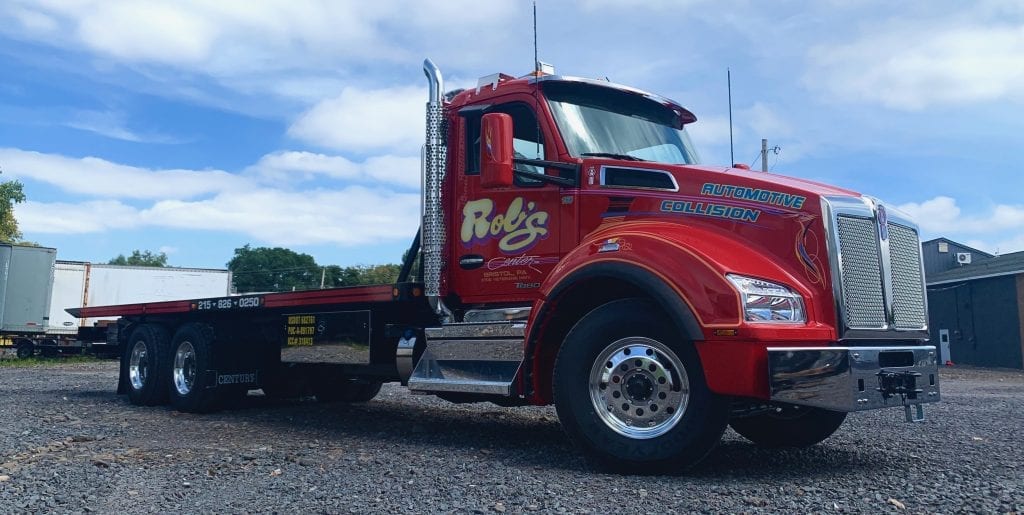 High Performance Truck Lettering For Commercial Service Trucks Nationwide
When choosing fleet graphics, it is very important to consider maximizing the benefit of your fleet graphics. Consider the route your vehicles will primarily follow. In this case, there is a lot of random stopping on the side of busy roads and highways. This led Rob's Towing to choosing highly visible reflective chevron graphics for the rear of their trucks. For this application, we designed a one piece solution for the rear truck lettering kits. This allows the customer to gain ultimate visibility from all rear traffic.
If you have a truck that needs our help and believe in the value of quality vehicle graphics, then please don't hesitate to contact us at your earliest convenience at 215-736-8000 or send us an email to info@slicksgraphics.com. For more information, check us out online at www.SlicksGraphics.com today.
Additionally, if your business could use more online traffic, then head on over to our digital marketing page. You'll learn how we can help you promote your website to maximize your potential to earn new customers. We can help companies throughout Bucks and Mercer County and improve online traffic to your website.
Check Out Our Other Great Products...