Trailer Wraps & Lettering
Custom Trailer Graphics | Trailer Lettering | 3M MCS Trailer Wraps | Nationwide
Trailers are our specialty.  Whether you want clean and simple trailer lettering, or a trailer wrap with huge graphics and use of impacting colors to grab the attention of your potential customers, our trailer wraps are the perfect solution in taking your business to the next level.
Our facility is equipped with several 75′ climate controlled bays to accommodate customers with tractor trailer fleets of any size located just outside Philadelphia, PA in Bucks County, PA.  
Enclosed trailer wraps are treated with just as much care and importance as tractor trailer wraps. Take your business to new heights with a perfectly designed trailer wrap and lettering.
Why are trailer wraps worth the investment?
Trailer wraps and graphics are one of the most economical ways to promote your business in today's competitive market.  Unlike traditional billboards, you don't have to continue to pay for these advertisements each month.  We specialize in branding trailers with various forms of coverage including vinyl lettering kits, large spot graphics, partial trailer wraps mixing printed graphics with traditional trailer lettering and even full custom trailer wraps built from high performance cast vinyl film made by either 3M or Avery.  Both of these leading brands back our brand, as we have established trust wrapping hundreds of trailers over the last decade earning an elite warranty certificate with both 3M and Avery which allows us to guarantee our wraps on all vertical surfaces up to 5 years protecting fade, adhesive and laminate on select high performance packages.
No one knows trailer wraps better than our team at Slicks Graphics.  Our friendly staff are able to help you choose the right materials for each trailer wrap considering product durability, effective design layouts, removable options and so much more.  In addition, we cater designs that demand results, graphics that can't be missed and messages that drive results.  This combination brings our customers a great return on their trailer wrap investments.
Our easily-accessible 4 acre facility is located just north of Philadelphia, Pennsylvania, convenient for all of your trailer wraps throughout the Bucks and Mercer County areas.  We proudly extend this service to customers across the country through our network of 3M certified installers.
Take a look at some trailers we have wrapped!
Check Out Our Other Great Products...
Check out our latest trailer wrap posts for more information...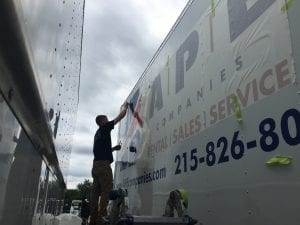 Trailer Lettering Trailer Lettering Solutions | Located outside Philadelphia, PA serving you nationwide. Get Your Trailer Lettered Today! For the last ten years, our team
Learn More »
Philadelphia Trailer Wraps
Landscaping Trailer Wraps
Power Washing Trailer Wraps
Contractor Trailer Wraps
Plumbing Trailer Wraps
Electrician Trailer Wraps
Roofing Trailer Wraps
Mason Trailer Wraps
Transportation Trailer Wraps
Car Hauling Trailer Wraps
Refrigerated Trailer Wraps
Cargo Trailer Wraps